<![if !vml]>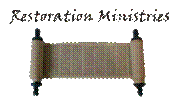 <![endif]>
Netzarene Israel Shabbat Siddur
This Siddur was written under our former ministry, Servants of Messiah Ministries
A Netzarene Israel Siddur That Restores The Sacred Names To Our Prayer And Worship
When we prepared this Siddur we wanted to restore the use of the Sacred Names in the Erev Shabbat and Shabbat prayers and blessings. We found it objectionable and even offensive to always have to correct the various "nick names" for YHVH that were present in the Orthodox Siddurim and the Messianic Jewish Siddurim available to us.
We also wanted to have Hebrew and transliterated text rather then just transliterated text and English. Primarily, we wanted a Siddur that would have the Hebrew text and the transliterated text closely associated with each other so that congregation members that were trying to learn Hebrew could at least see how a word would be pronounced. We tried several formats and finally settled on the format of this present work. Furthermore, we decided that a larger size would be more appropriate for congregation and individual use because it would be easier to read. It is possible that in future editions we would consider a smaller size book.  Please note that all of the files below are in Adobe Acrobat format.  It may be that you will need to also download the Hebraica font which is also available.
THE SIDDUR IS FREE!
Click here to download the Siddur
Click here to download the Siddur book cover
Click here to download the instructions for printing
Click here to download copyright information
Click here to download the Hebraica font
Click here for information on an Audio CD of an Erev Shabbat and Shabbat Siddur
Click HERE to return to our Home Page.